The "Nifgashim Beshvil Israel" project is a memory walk on the blazed trail from Eilat the south to She'ar Yashuv in the north, in commemoration of all the fallen soldiers and terror victims. It invites the Israeli people to participate in a physical, cultural, historical, social and spiritual journey which connects the participants to the country's landscape, heritage, and the people who work in different ways to make Israel grow and develop. It is an innovative opportunity for people of different religious affiliations, ages, socio-economic backgrounds, different beliefs and political opinions to meet, to have dialogue and pursue the fundamental questions faced by Israeli society.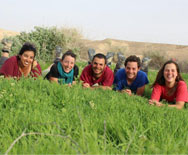 The "Nifgashim Beshvil Israel" project, now in its 10th year, encompasses a unique combination of content, commemoration, and Jewish renewal partnered with nature. This walking seminar is far more than a tour of the beautiful Land of Israel. Walking together in the memory of those who gave their lives for Israel, participants also study and discourse on their commonalities and differences. They address questions of our future together in the modern Jewish state while strengthening their connections to each other and to the land of Israel. To date, close to 50,000 individuals have participated in these walking seminars.
The initiative is a joint endeavor of Tsav Pius (of the Avi Chai Foundation), the Ofner family - who lost their son Avi in the 1997 helicopter crash tragedy and has chosen to commemorate his memory through this project, Hamidrasha Educational Center for the Renewal of Jewish Life in Israel and the Society for the Protection of Nature in Israel. In addition, various community and cultural centres have donated their facilities and assistance, and many former participants have returned as volunteers to play an active role in the organizational, logistical and marketing tasks both before and during the walking seminar. Professional guides and facilitators are responsible for the creation of the content elements and interactive experience.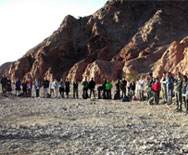 The cost of this unique project generally exceeds $150,000 and is financed primarily through private donations.
How to help
Donations made to the Israel Trail Encounter project will help to underwrite the many expenses of such a complicated organizational and logistical project, including staff transportation, buses to bring participants back to their cars at the end of the day, development of educational materials, guides and facilitators for on-site workshops.
Tax deductible contributions to the Project may be made through the non-profit organization "Avi Beshvil Israel". Please contact us at
ofnery@netvision.net.il
or through our site
www.avi-beshvil-israel.org.il
.